Horseback Riding in Arizona
The ultimate riding experience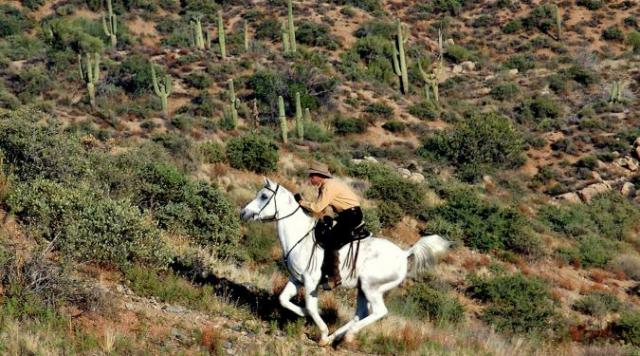 Windwalker's equestrian guides are experienced horsemen who own and train their own horses, from Quarter Horses to Arabians.
We provide an intimate and challenging horseback ride on well-conditioned, desert-wise horses. Our outstanding horses provide our guests, whether they are novice or advanced riders, with the confidence and security they need to experience unique desert wilderness trails.
The advantages are obvious: Riding horses that receive the best of care, conditioning and training gives our guests the ultimate horseback experience while horseback riding in Arizona.
Western Horseback Riding
We have guides who specialize in the Western style of riding, giving Windwalker a wide variety of quality horses to accommodate novice to advanced riders.
English Horseback Riding
Some of our guides specialize in endurance riding and use lightweight endurance saddles (more for the English trained guests).
Advanced Riders
For those who love a challenging ride and enjoy trotting and cantering for long periods of time, the finest endurance horses and professional horsemen await you! For advanced to expert riders only please.
Novice to Intermediate Riders
You will be riding with an experienced horseman, this is a great opportunity to improve your riding skills. In the canyons we will find stretches of nice sandy washes, where, depending on your riding ability, we might be able move out on a faster pace.
Some of Our Riding Trails
Windwalker is completely mobile, meaning that we have the freedom to trailer our horses to various trail heads throughout the state of Arizona.
Camp Creek Canyons
(2.5 hours)
Miles & miles of great action and incredible mountain views. We might see some deer or javelina (wild pig) as we ride through this botanical paradise. If you are very lucky you may catch a flash of a wild cat or coyote. The Sonoran Desert offers unexpected surprises in its hidden folds.
Full Day Riding Trails
(5.5 hours)
You will travel with some of the most knowledgeable guides by horseback in the state of Arizona. With access to hundreds of miles of wilderness trails, we are able to design private horseback rides to match your level of horseback riding experience. We use some of the most exciting and diverse trail systems in the state of Arizona.
These are some of the most adventurous day trips you will ever experience. We have over 3 million acres of wilderness to choose from, with elevations ranging from 2,000 to 8,000 feet. Windwalker has the luxury of having numerous choices when it comes to making trail selections, so we often like to customize our trail rides acording to our guests interests and level of experience. We've added a couple of examples below.
Superstition Wilderness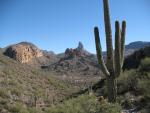 Breathtaking scenery highlights this trip through the Tonto National Forest. Depending on our choice of trail systems and time of year, we could incounter numerous water crossings, steep inclines and narrow canyons that we guarantee will create a memorable mountain journey. This ride can be slow going at times and a bit technical as well, but it is truly an Arizona adventure ride and you will be challenged as a rider.
The Superstition Wilderness area is part of the Tonto National Forest, and includes the famous Superstition Mountain and Weaver's Needle. The area includes 160,200 acres of rugged terrain, reaching elevations between 2,000 and 6,265 feet. There are about 180 miles of trails, ranging from intermediate to advanced in difficulty.
Black Canyon Trail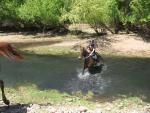 We cross the Aqua Fria River on this ride as we travel through some of the richest Sonoran Desert landscapes in the state. We will see thousands of Saguaro cactus on this trail ride and there's a great chance to see some native Arizona wildlife from mule deer, javelina, bald eagles, rattle snakes to wild burros. Be prepared for an incredible ride as this is one of our favorites. There are sections on this trail where we can move out a bit and do some endurance pacing if you like.
The Black Canyon Trail began as a prehistoric Native American pathway linking local settlements together and providing a way to travel long distances. The trail follows a route that has been used since the 1600's for the movement of livestock and people.